Make it simple but significant.




Don Draper
An American period drama about society of 1960´s, highlighting cigarette smoking, sexism, feminism, drinking, homophobia, adultery, antisemitism and racism. (Wiki) An awesome TV series which aired their last episode more than a week ago. They made the interior design of 1960´s, mid-century modern, very popular again, so that's awesome.
Mid-century modern is all about simplicity, nostalgia and comfort. In that uncertain era it was important for people to have a sense of connection and security in their homes - tough times produce innovative designs out of necessity.
Here are some tips on HOW TO CREATE THE STYLE OF MAD MEN IN YOUR HOME!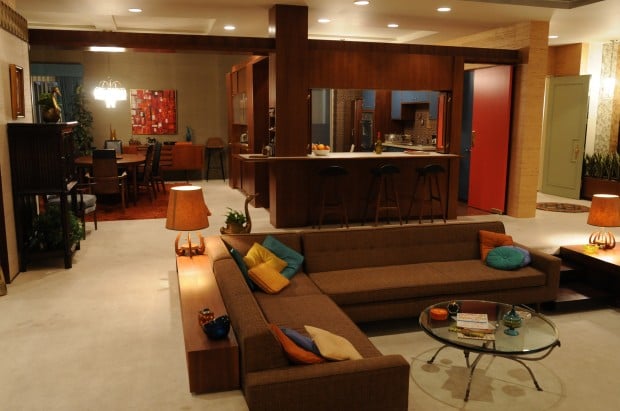 Don and Megan Draper's Apartment - Mad Men - Season 5 - Photo Credit: Michael Yarish/AMC
1. Pick the Right Colours
For mid-century modern colours should be darker neutral tones combines with saturated accent colours. You should follow the 60-30-10 rule; 60% dominant base colour, 30% secondary colour, and 10% accent colour.
2. Less Is More
Keep in mind to keep your design simple. No unnecessary details or clutter.
3. Wood details
4. Let There Be Light
5. Embrace Patterns And Textures
6. Retro Art
These are some great elements of recreating the MAD MAN home interior design. But you should always put a little bit of you into your home, make your own interior design mix and match with what speaks to you. People are not black and white when it comes to design, we like different elements of different interior design styles. So here is how I would add mid-century style to my own taste.
My Mix and Match Examples
1. Home Office
Womb Chair with Ottoman, Chandelier and Desk are from

Chairish,

Rug is from

Love4home

and Cabinet from

IKEA
2. Living Room
I hope you like it.
Also, I am taking this opportunity to invite you to check out NeverMind, a new blog about style, fashion, motivation, event planning and design! It is a team effort and we are very pleased and excited about new beginnings and ideas.
With love,
Maja